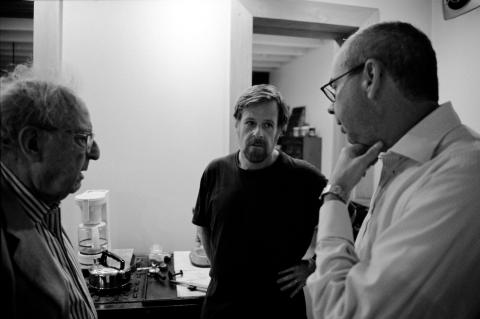 Nathan Benn served on the National Geographic photographic staff from 1972 into 1991. Three hundred of his photographs were published in National Geographic Magazine, and hundreds more in numerous books. He is especially grateful to Robert E. Gilka, the legendary Director of Photography at National Geographic.
Benn's assignments were equally divided between domestic and non-US projects. His photography in the 1970's is rooted in the traditions of post-WWII photojournalism, especially Life Magazine. He mostly photographed people, never very confident about landscape photography. In this first phase he was a hunter/gatherer of images, rarely posing or manipulating the subjects. His NGM coverage's included Hasidic Jews, Jewish Diaspora, Vermont, Massachusetts, Finger Lakes, Dead Sea, Prague, medicinal herbs, and Moses and the Exodus. He also photographed the Mississippi River for Germany's GEO Magazine.
In 1981, Benn photographed the State of Florida. Benn and his colleagues thought it was the best work of life, but the senior editors hated it. Thereafter, much of his work in the 1980's relied on lighting and enhanced production. His later projects included a book on the human body, skyscrapers, the Netherlands, South Korea, Moche archaeology, and skyscrapers. The editors were happier, but Benn wasn't.
After nearly twenty years as a magazine photographer, Benn developed interest in emerging digital technology. In 1991 he packed up his Leicas, Nikons, and Hasselblads, put 350,000 transparencies into storage, and jumped ship. Focusing on digital technology and networks, he started Picture Network International (PNI), the first "internet portal" to sell stock photography online. PNI's launched its online service in 1993, three years ahead of similar services from Corbis and Getty Images. PNI was also the first entity to offer outsourced digital asset management (DAM). Eastman Kodak purchased PNI in 1998, later selling PNI's picture licensing business to Jupiter Images (now Getty Images), and the DAM business (renamed eMotion) to Corbis. eMotion is now owned by OpenText.
In early 2000 Benn was recruited by Magnum Photos, Inc. to be its Director. During his term Magnum published the award-winning books RFK Funeral Train and New York September 11 by Magnum Photographers. In 2003 Benn returned to his long neglected archive and enjoyed rediscovering and reinterpreting his images. He now concentrates on defining his legacy and producing fine art prints. PowerHouse Books published his first monograph in September 2013,Kodachrome Memory: American Pictures 1972 – 1990.
Benn is a Trustee Emeritus of George Eastman House International Museum of Photography and Film, and lives in Brooklyn Heights with wife Rebecca Abrams, a fine arts photographer and son Augie. 
Source: http://thephotosociety.org/member/nathan-benn/
Photo © Larry Towell/Magnum Photos