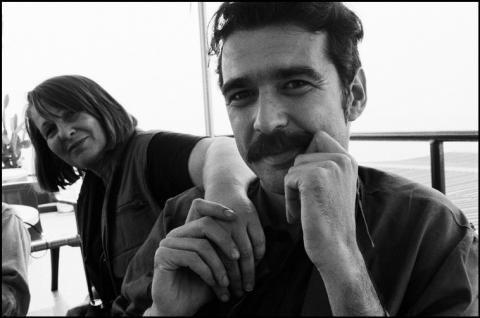 Franco Zecchin was born in 1953 in Milan, Italy. He has a masters degree in nuclear physics.
In 1974 he met and fell in love with Letizia Battaglia. Letizia was a photographer and publisher, and an energetic anti-Mafia activist who went on to be a parliamentary Deputy [member of parliament]. Franco moved to Palermo in 1975 and began working as a photographer for the daily newspaper l'Ora. His first assignment was to cover Mafia activity and he quickly came to focus on the activities of the Mafia, and the wider context of political corruption and social deprivation of Palermo at that time.
This groundbreaking work not only had a significant impact on the political scene in Sicily but also brought him to international attention. His work was shown in exhibitions around the world, including the Palais de Tokyo in Paris, the Museum of Photography in Rochester and the Museum of Photography, Film and Television in the UK. In 1988 he joined the prestigious Magnum Photo Agency, and won international journalism awards for his long run work on the Mafia.
In 1990 he began another socially committed project in Silesia, Poland, exploring pollution and public health. During the first gulf war, he worked in Algeria, Morocco and Tunisia. He left Magnum in order to change direction in his work with a new project about nomads, spending time with the Touaregs of the Sahara desert. This project was completed in 1998 with the publication in Paris of his book, Nomads. This substantial body of work gathers together images of great simplicity and beauty, recording the last actively nomadic peoples of the world.
Today, Franco lives in Paris. His work is published in a number of respected newspapers and magazines including Le Monde, Liberation, L'Express and Nouvel Observateur.
SOURCE: http://www.privatephotoreview.com/photographers/franco-zecchin/