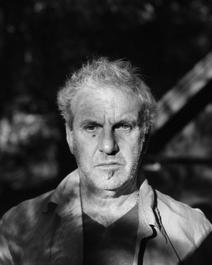 Jim Goldberg is a Professor of Art at the California College of Arts and Crafts and a member of Magnum Photos. He has been exhibiting for over 30 years and his innovative use of image and text make him a landmark photographer of our times. He began to explore experimental storytelling and the potentials of combining image and text with "Rich and Poor", (1977-85), where he juxtaposed the residents of welfare hotel rooms with the upper class and their elegantly furnished home interiors to investigate the nature of American myths about class, power, and happiness. In "Raised by Wolves" (1985-95), he worked closely with and documented runaway teenagers in San Francisco and Los Angeles to create a book and exhibition that combined original photographs, text, home movie stills, snapshots, drawings, diary entries as well as single and multi-channel video, sculpture, found objects, light boxes and other 3-D elements. He is currently working on two books on migration in Europe to be published in 2009 and 2010 by Steidl. He is represented by Pace/MacGill Gallery in New York and the Stephen Wirtz Gallery in San Francisco.
His work is in numerous private and public collections including NYMOMA, SFMOMA, Whitney, Getty, LACMA, Corcoran, MFA Boston, Hallmark Collection, The High Museum, Library of Congress, MFA Houston, National Museum of American Art, and the Art Institute of Chicago.
Jim Goldberg's fashion, editorial and advertising work has appeared in numerous publications including W, Details, Flaunt, The New York Times Magazine, Esquire, Rebel, GQ,The New Yorker, and Dazed and Confused. He lives and works in San Francisco.