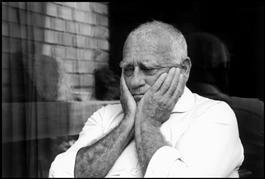 Born in Vienna, Erich Lessing was the son of a dentist and a concert pianist. In 1939, before Lessing finished high school, Hitler's occupation of Austria forced him to emigrate to Israel (then British Mandate Palestine). His mother remained in Vienna and died in Auschwitz. Lessing studied at Haifa's Technical College, before working on a kibbutz; after his time as a soldier he also drove a taxi for a living.
During the Second World War, Lessing served in the British Army as an aviator and photographer. He returned to Vienna in 1947. He worked as a reporter and photographer for the Associated Press and was invited to join Magnum by David 'Chim' Seymour, one of the agency's founders. He became a full member of Magnum in 1955. Lessing covered political events in North Africa and Europe, and reported on the onset of the Communist period in Eastern Europe for Life, Epoca, Picture Post and Paris-Match. His pictures of the 1956 Hungarian Revolution serve as a record of the hope and euphoria of the first days of the revolt, so soon to be followed by the pain and punishment of its brutal suppression.
Lessing later became disillusioned with photojournalism as an agent for change. From the mid-1950s he turned to art, science and historical subjects. He specialized in large-format color photography, publishing more than forty books and establishing himself worldwide as a photographer of culture.
Having taught photography in Arles, at the Venice Biennale, in Ahmedabad in India as a UNIDO expert, at the Salzburg summer Academy and at the Academy of Applied Art in Vienna, Lessing has been honored with numerous awards. He is a member of UNESCO's International Commission of Museums, and CIDOC, its information branch. He lived in Vienna until the end of his life and also died in Vienna in August 2018.