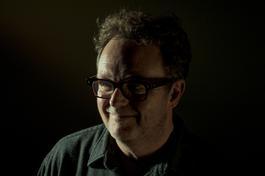 As a child Mark Power discovered his father's home-made enlarger in the family attic, a contraption consisting of an upturned flowerpot, a domestic light bulb and a simple camera lens. 
His interest in photography probably began at this pivotal moment, although he later chose to study painting and drawing instead. He 'became a photographer' (somewhat accidentally) in 1983, and worked in the editorial and charity markets for nearly ten years, before he began teaching in 1992 (Power is currently the Professor of Photography at the University of Brighton). 
This move coincided with a shift towards long-term, self-initiated projects, which now sit comfortably alongside a number of large-scale commissions in the industrial sector.
Power's work has been seen in numerous solo and group exhibitions across the world and is in several public and private collections. He has published six books: 'The Shipping Forecast' (1996), 'Superstructure' (2000), 'The Treasury Project' (2002), '26 Different Endings' (2007), 'The Sound of Two Songs' (2010) and 'Mass' (2013).
Mark Power joined Magnum Photos in 2002.