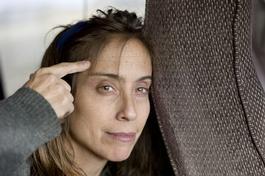 Alessandra Sanguinetti was born in New York, 1968, brought up in Argentina from 1970 until 2003, and is currently based in San Francisco.
She is a recipient of a Guggenheim Foundation fellowship and a Hasselblad Foundation grant. Her photographs are included in public and private collections, such as the Museum of Modern Art (NY), the San Francisco Museum of Modern Art, the Museum of Fine Arts in Houston, Museum of Fine Arts, Boston. Her book, "On the Sixth Day", was published by Nazraeli Press in January 2006.
She has photographed for the The New York Times Magazine, LIFE, Newsweek, and New York Magazine.