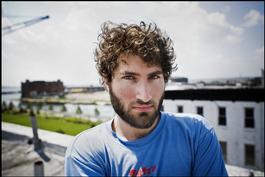 Peter was born in Washington DC. He studied history at Yale, graduating with honors in 2003. 
Since 2006 he has primarily covered the 9/11 Wars and their consequences, working extensively in Iraq, Afghanistan and the USA.  
He has won the W. Eugene Smith Grant, the ICP Infinity Award for Young Photographer, the Lumix Freelens Award, as well as awards from World Press Photo, American Photography Annual, The Pulitzer Center, The Center for Documentary Studies at Duke University and Photo District News.
In 2008 he helped organize the book and exhibition Battlespace, a retrospective of largely unseen work of 22 photographers covering Iraq and Afghanistan.
Peter joined Magnum in 2008 and became a full member in 2013.