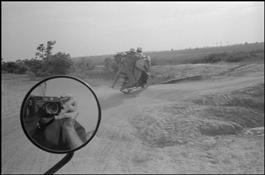 John Vink studied photography at the fine arts school of La Cambre in Brussels, in 1968. He has been a freelance journalist since 1971.
Since the mid-1980s, Vink has dedicated much time to long-term projects, the first of which was on Italy, between 1984 and 1988. He came to public attention in 1986 when he was awarded the prestigious W. Eugene Smith Grant in Humanistic Photography for Water in Sahel, a two-year documentary project on water management involving migrant and sedentary populations of the Niger, Mali, Burkina-Faso and Senegal.
Vink joined the Vu agency in Paris in 1986, then from 1987 to 1993 worked on Refugees in the World, an extensive statement about life in the refugee camps of India, Mexico, Thailand, Pakistan, Hungary, Iraq, Malawi, Bangladesh, Turkey, Sudan, Croatia, Honduras and Angola. The series was published in book and CD-ROM form and became the subject of an exhibition at the Centre National de la Photographie in Paris. In 1993 Vink became a nominee at Magnum Photos, and in 1997 a full member. From 1993 to 2000 he worked on Peuples d'en Haut, which chronicles community life in mountainous regions of Guatemala, Laos and the Georgian Caucasus.
Wishing to concentrate on one country instead of continually traveling and wanting to move away a little from the 'photographic scene', Vink has been based in Cambodia since 2000. He documents land issues and other social issues, including the Khmer Rouge trials and its backgrounds.
In 2012, he publishes 'Quest for Land' for the iPad, compiling 11 years of work on land issues in Cambodia.
The following years he publishes a series of e-books, all available on the iTunes iBookstore: ''Same Same'', ''Royal Silence'', ''30 Years for a Trial'', ''A Fine Thread'' and ''Hearths of Resistance''