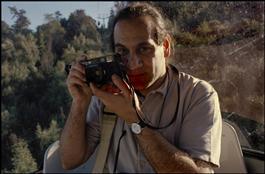 Patrick Zachmann has been a freelance photographer since 1976 and member of Magnum Photos since 1990. He has dedicated himself to long-term projects on the cultural identity, memory and immigration of different communities. From 1982 to 1984, he worked both on a project on highway landscapes, backed by the French Ministry of Culture, and on the challenges of integration facing young immigrants in the northern neighborhoods of Marseilles.
In 1982, he also plunged into the violent world of the Neapolitan police and mafia - the Camorra - resulting in the publication of a book and a fictional text inspired by his cinematographic images. In 1987, after working for seven years on a personal project about Jewish identity, Zachmann published his second book, Enquête d'Identité ou Un Juif à la recherche de sa mémoire (Inquest on Identity or a Jew in search of his memory). In 1989 his story on the events at Beijing's Tiananmen Square was widely published in the international press. That year, his entire body of work was awarded the prestigious Prix Niepce.
For the next six years, Patrick Zachmann continued his research on the Chinese diaspora around the world, resulting in the 1995 publication of the acclaimed book W., ou L'Œil d'un Long Nez, accompanied by an exhibition that toured in ten countries in Asia and Europe. Between 1996 and 1998, Zachmann directed the short film La Mémoire de Mon Père (My Father's Memory), followed by his first feature-length film Allers-retour: Journal d'un Photographe (Round trip: diary of a photographer), about the disappearing traces of memory, in Chile in particular.
In 2006, he began a new project entitled Confusions Chinoises (Chinese Confusions), for which he received a grant from the French Fine Arts Delegation (DAP). He also gave classes at the National School for Decorative Arts in Paris and the Institute Superiore di Fotografia e di communication in Rome.
From 2006 to 2008 he directed a feature film called Bar Centre des Autocars, about the destinies of ten young people whom he had known and photographed twenty years earlier, from Marseille's poorest neighborhoods. In May 2009, at the Cité d'Histoire de l'Immigration in Paris (Centre for the History of Immigration), Patrick Zachmann will present his entire body of work, spanning twenty five years, about immigration and the suburbs.